Site Contents:
BACKYARD RACING TEAM page Pics of our cars, our NEW LARGER shop and a few toys!!
GOTRA MEMBERS PAGE... ..... Pics and bios. I'm always rebuilding this page, watch for updates.
GOTRA RACING PHOTOS PAGE... ...... Look for your favorite car on this page of racing pics. many date back to 1997.
GOTRA RULES ....THERE ARE A FEW RULES!! ...... Everyone has to have 'em! These are from 2005. They are for reference only. You have to attend a fall or spring meeting to race with GOTRA.

GOTRA Racing Schedule ....Check out our current schedule here. IT IS HUGE! The dates are tentative with more dates to come.
GOTRA Racing Results....Check out some of the results from the racing season here. As they are supplied, they'll get posted!!
....The www.playlandspeedway.com Website is up and running!!
2003 Abe Lincoln Memorial Photos ....Held at Columbus, Ne. Check out the pics!
2004 Vintage Racecar Reunion Photos ....Held at Webster City was interesting. Maybe your favorite car was there.
1999 Vintage Racecar Reunion Photos ....Held at Webster City was interesting. Maybe your favorite car was there.
Racing Links Page ....
Frequently asked Questions page....Check out some FAQ's here
GOTRA isn't for the vintage racer that has to win.
GOTRA is for the vintage racer that has to RACE!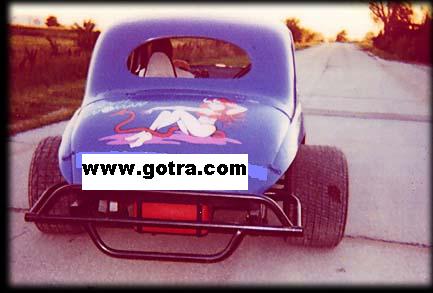 The "Devil Woman" 1946 Ford Coupe.
Thanks for visiting our humble website! Dan Franks here, webmaster and driver of the Devil Woman.
GOTRA is dedicated to the racing and preservation of vintage stockcars and the memory of those who raced before us.... If you like the idea of: racing old cars --for fun --in a touring series --in an inexpensive class.... GOTRA IS FOR YOU! ASK any GOTRA member about vintage racing!! Our promotor's name is John Ferguson. He and his wife Cheryl keep GOTRA going. To reach John or Cheryl, e-mail them at: gotra@msn.com
Click Here to check out the Fremont Tribune article!!
GOTRA will host the 6th Annual Cornhusker Vintage Nationals at US 30 Speedway in Columbus, Ne. Saturday, October 4 & Sunday, October5 watch for details of this 2008 event! Start planning now!!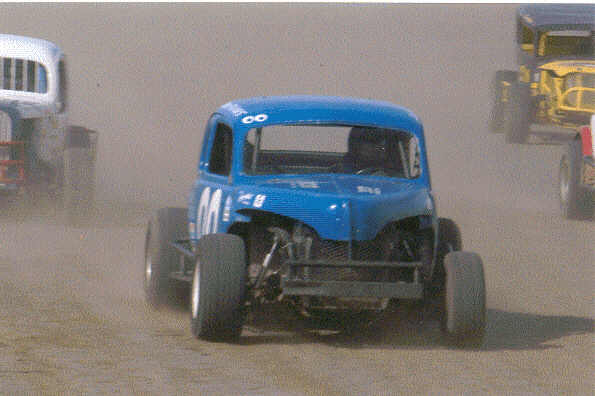 Racing at the 2003 Cornhusker Vintage Nats!
Check out the latest GOTRA Racing schedule!!
You can see GOTRA member cars on the Members page -----
Put your feet up, open a cold one and check out the pages contained on this site!
Feel free to submit GOTRA race results, your pics and stories to me for inclusion on the website! race_66 @yahoo.com
If you can't find a page you were looking for, try the Backyard Racing Team pages. I have moved some pages there, the Race Cars for Sale page for example and lots of other pages with pics and interesting stuff!
If you recognize any of the cars displayed on our pages, can provide the history of any of them, or want to tell me of a Vintage stock car club or event, email me at race_66@yahoo.com.
Dedicated to my late father and inspiration, Al Franks.. I race for him. Although he passed on, he's still with me in spirit. I think of him constantly. We did so many things together. Those days are gone forever.
The fine print: I guess I should mention here that although I do devote considerable time, energy and some money to support GOTRA on these pages, this website is primarily to promote my Backyard Racing Team and the vintage racing scene I love. Any comments, editorial or otherwise are mine..... not GOTRA's.
© Copyright by race66.gotra.com 1999-2011
All rights reserved. Reproduction of material appearing on this Web site is strictly prohibited without express written permission of the webmaster.
This site designed and maintained by Dan Franks gotra.com